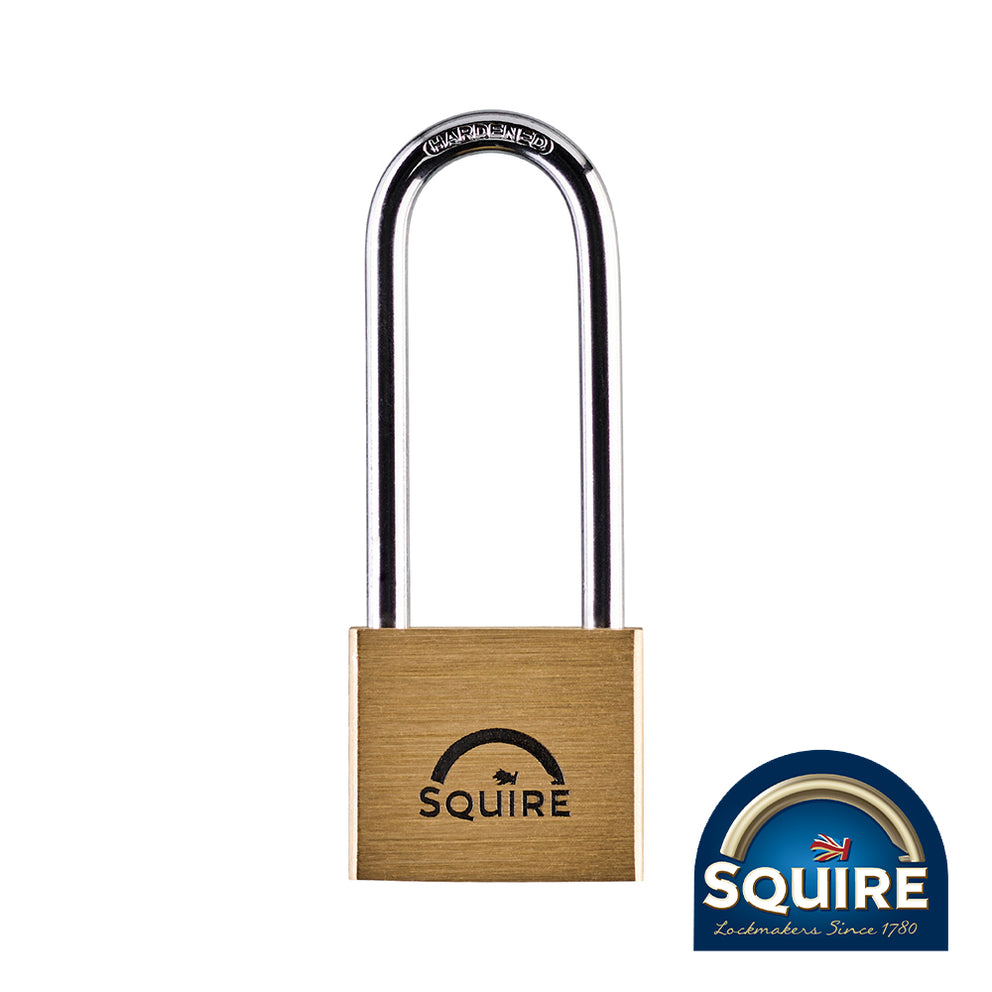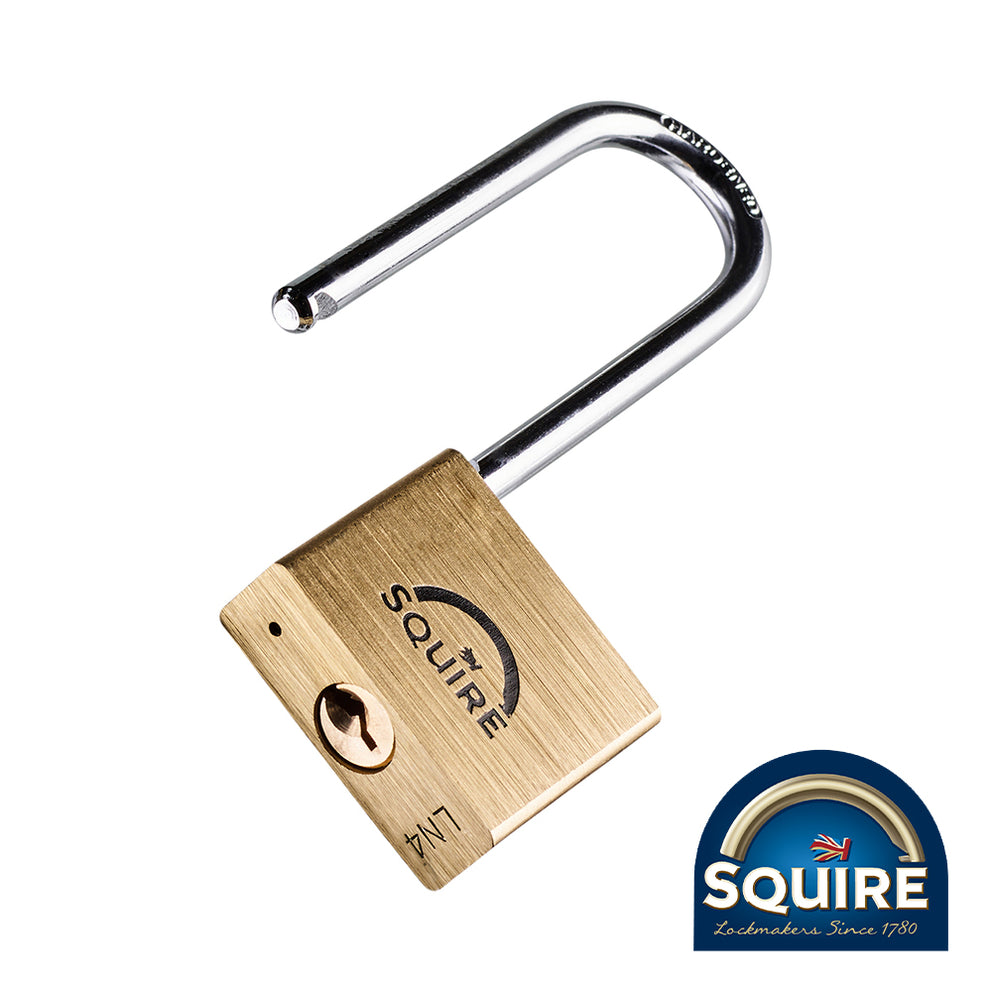 Squire Locks
Squire LN4S Long Shackle - Premium Marine Grade Brass Padlock
$16.99
SQUIRE LN4S MARINE LONG SHACKLE – Solid Brass Padlock with Stainless Steel Shackle Upgrade your security with the SQUIRE LN4S MARINE LONG SHACKLE - 40mm Solid Brass Padlock. This premium padlock provides exceptional security for both indoor and outdoor applications. With its solid brass body and stainless steel shackle, it offers robust protection against theft and designed to withstand exposure to the elements. Key Benefits: Unmatched Security: The LN4S MARINE long shackle padlock ensures superior duty security, safeguarding your valuable possessions with its reliable construction and advanced features. Versatile Use: Whether you need to secure your personal belongings indoors or protect equipment and assets outdoors, this padlock is suitable for a wide range of applications. Rustproof and Durable: Built to withstand harsh environments, this padlock is rustproof, making it ideal for use in various weather conditions. Double Locking Mechanism: The double locking feature adds an extra layer of protection, preventing unauthorized access and enhancing security measures. Long-lasting Performance: Designed with a 5-pin tumbler lock mechanism and subjected to a rigorous 200-hour salt spray test, this padlock ensures reliable and durable performance. Specifications: Body Material: Solid Brass Padlock Body Width: 40mm Long shackle - 2.5 inch clearance Shackle Material: Stainless Steel Rustproof: Suitable marine and outdoor use Locking Mechanism: Double Locking Additional Features: 5-pin tumbler lock, Rustproof Squire Warranty: 10 years Purchase your Brass LN4S long shackle marine padlock today for a durable solution to your outdoor security needs.
Squire Locks
Stronghold SS50S/2.5 Open Long Shackle | Boron Hardened Steel Padlock
from

$114.99
Stronghold SS50S/2.5: Seriously High-Security Padlock for Unrivaled Protection Discover the ultimate high-security padlock for unparalleled protection. The Stronghold SS50S/2.5 from Squire is the one of world's strongest production padlocks, engineered with precision to ensure your valuable assets remain safe and secure. Main Benefits: Unmatched Security: With a 10mm hardened boron steel shackle with 2.5inch clearance and 50mm solid hardened steel lock body, the SS50S/2.5 delivers near impenetrable strength against tampering and forced entry attempts. Versatile Application: This padlock secures perimeter gates, storage units, truck tool boxes, and vehicles such as lorries, trailers, RVs, and motorcycles. Advanced Locking Mechanism: The Squire 6 pin locking mechanism resists picking and unauthorized key duplication, ensuring optimal security. Customizable Access: With over 250,000 key differs, the SS50S/2.5 offers the flexibility of being keyed alike or master keyed, allowing convenient access control for multiple locks. Certified Protection: Tested to CEN security standards, this padlock meets stringent requirements for reliability and performance. Durable and Resilient: The anti-corrosion 2-layer coating, featuring zinc and black electrophoretic finish, safeguards the padlock from rust and ensures long-lasting performance. More Information: The Stronghold SS50S/2.5 is the result of Squire's dedication to padlock engineering excellence. Its robust construction and advanced locking features make it an ideal choice for both residential and commercial security needs.  Order your Stronghold SS50S/2.5 padlock today and experience unrivaled security, unmatched strength, and peace of mind with our 10-year industry leading warranty.
Squire Locks
Warrior® Combi 65/2.5 Open Shackle
$62.99
ROBUST HIGH SECURITY COMBINATION LOCKS: They don't get much tougher than our new range of heavy duty, high performance Warrior padlocks. These tough combination locks have armored steel bodies, Boron steel shackles and protective covers making them hard to beat.  NEW IMPROVED BORON STEEL SHACKLES: The SQUIRE Warrior Range has a new hardened boron steel shackles that provide 80% more attack resistance compared to other hardened steel shackles. The Warrior Combi Locks are highly corrosion resistant, ideal for securing sheds, tool boxes, lockups and storage areas. That's why they're supported by the independent crime-fighting charity Crimestoppers. FULLY RECODABLE, NO KEYS TO LOSE: The Squire Locks recodeable combination padlocks offer unrivalled product performance and choice. These combination padlocks come with easy to follow recoding instructions. The 4 wheel configuration allows for up to 10,000 different combinations, whereas the 5 wheel configuration allows for up to 100,000 possible combinations. EASY TO HANDLE, HARD TO BEAT: The Warrior Heavy Duty Combination Locks are made of the highest quality materials, satin chrome die cast alloy body and a soft touch cover for comfortable use. The double clocking mechanism and Boron steel shackles make them great for high security use. The patented design allows the wheels move effortlessly. The Squire Combination Padlocks comply with high security standards are great for securing garages, security gates, warehouses & commercial vehicles. SQUIRE10 YEAR WARRANTY: We at SQUIRE have over 235 years of lock making history; we are uncompromising in our commitment to innovation, service and performance. We're proud of our craft and stand firmly behind our reputation for long-lasting toughness. That's why every one of our locks comes with a 10 year personal guarantee. If you have any problems with your lock, we will give you a new one, no questions asked. In accordance with California PROP65 -   Warning: Cancer & Reproductive Harm www.P65Warnings.ca.gov
Trusted Brand
Squire's 240 years of manufacturing excellence
Quick Delivery
95% of orders ship same day
10 Year Warranty
Industry leading product guarantee
15 Day Returns
Return Unused for Product Refund