Squire Old English 555: The Ultimate Marine Padlock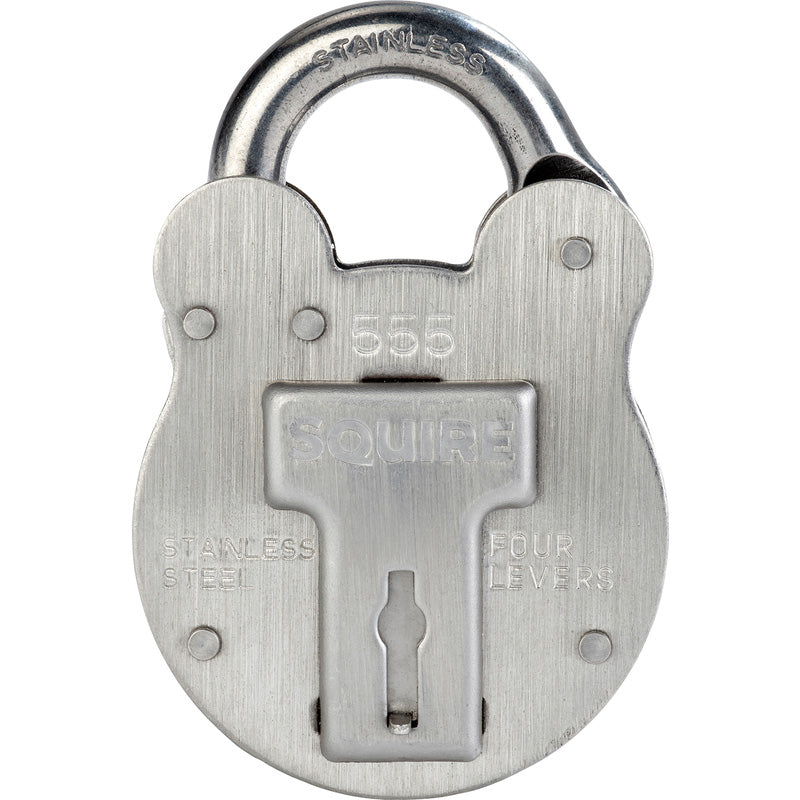 Squire Old English 555: The Ultimate Marine Padlock
Product description
Introducing the Squire 555 Marine Padlock
Squire's ultimate marine padlock designed to deliver unparalleled anti-corrosion and waterproof performance. With a rich history dating back to 1954, these iconic padlocks have been trusted in underwater environments, including securing lobster pots in Newfoundland. Now, after nearly 70 years of innovation, Squire proudly presents the Old English 555 padlock, the first marine padlock featuring a stainless steel shackle and body. Its cutting-edge design boasts a four-level lock mechanism with brass levers coated in electrophoretic nickel, ensuring exceptional durability even in wet conditions. Tested for 480 hours of salt spray exposure, it surpasses the highest European corrosion resistance standard (EN 1670 - Grade 5).
Key Features:
Extreme-Weather Resistance: Withstand the harshest conditions while maintaining optimal functionality.
Salt Spray Tested for 480 Hours: Demonstrates unmatched corrosion resistance, ideal for marine environments.
Rustproof Design: Provides long-lasting durability and protection against rust and corrosion.
Stainless Steel Shackle and Body Casing: Ensures superior strength and guards against the elements.
Secure Keyhole Cover: Shields the keyhole from dirt, debris, and moisture, extending the padlock's lifespan.
Robust 4-Lever Lock Mechanism: Enhanced security and superior resistance to corrosion.
Electrophoretic Nickel Coating on Brass Levers: Ensures long-term performance and prevents corrosion.
Convenient Keyed Alike Versions: Simplify key management with multiple padlocks using the same key.
Eco-Friendly Boxed Packaging: We care about the environment, so our padlocks are packaged sustainably.
Specifications: Shackle Diameter 8mm, Shackle Vertical Clearance 18mm, Shackle Horizontal Clearance 18mm, Body Thickness 16.5mm, Body Width 51mm
The Squire Old English 555 marine padlock includes two keys and comes with Squire's 10-year guarantee, providing peace of mind and ensuring long-lasting security for your marine environments, including boats, jet skis, beach huts, fishing equipment, marinas, harbors, and beach locations.
Trusted Brand
Squire's 240 years of manufacturing excellence
Quick Delivery
95% of orders ship same day
10 Year Warranty
Industry leading product guarantee
15 Day Returns
Return Unused for Product Refund