Warrior® Combi 55/2.5 Long Shackle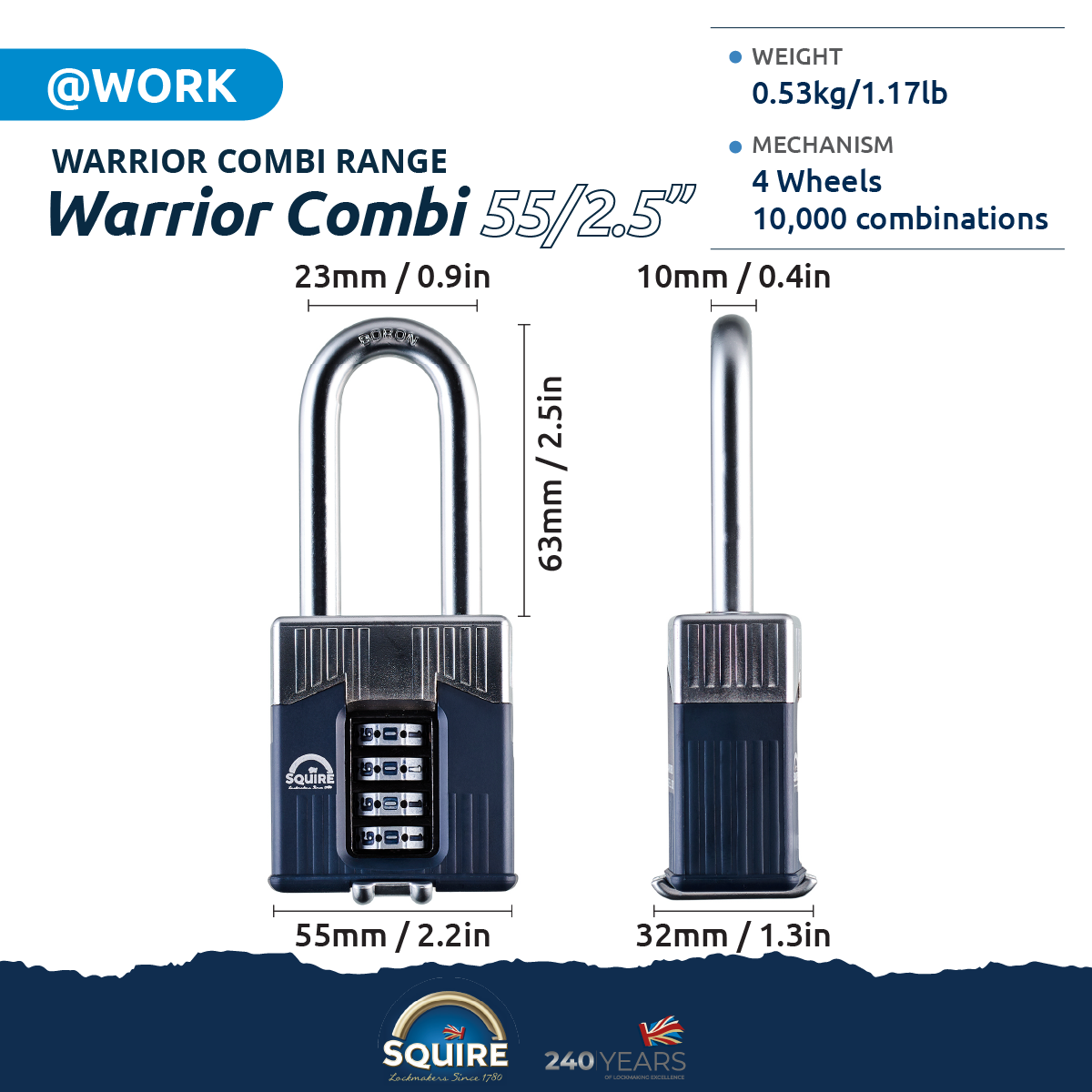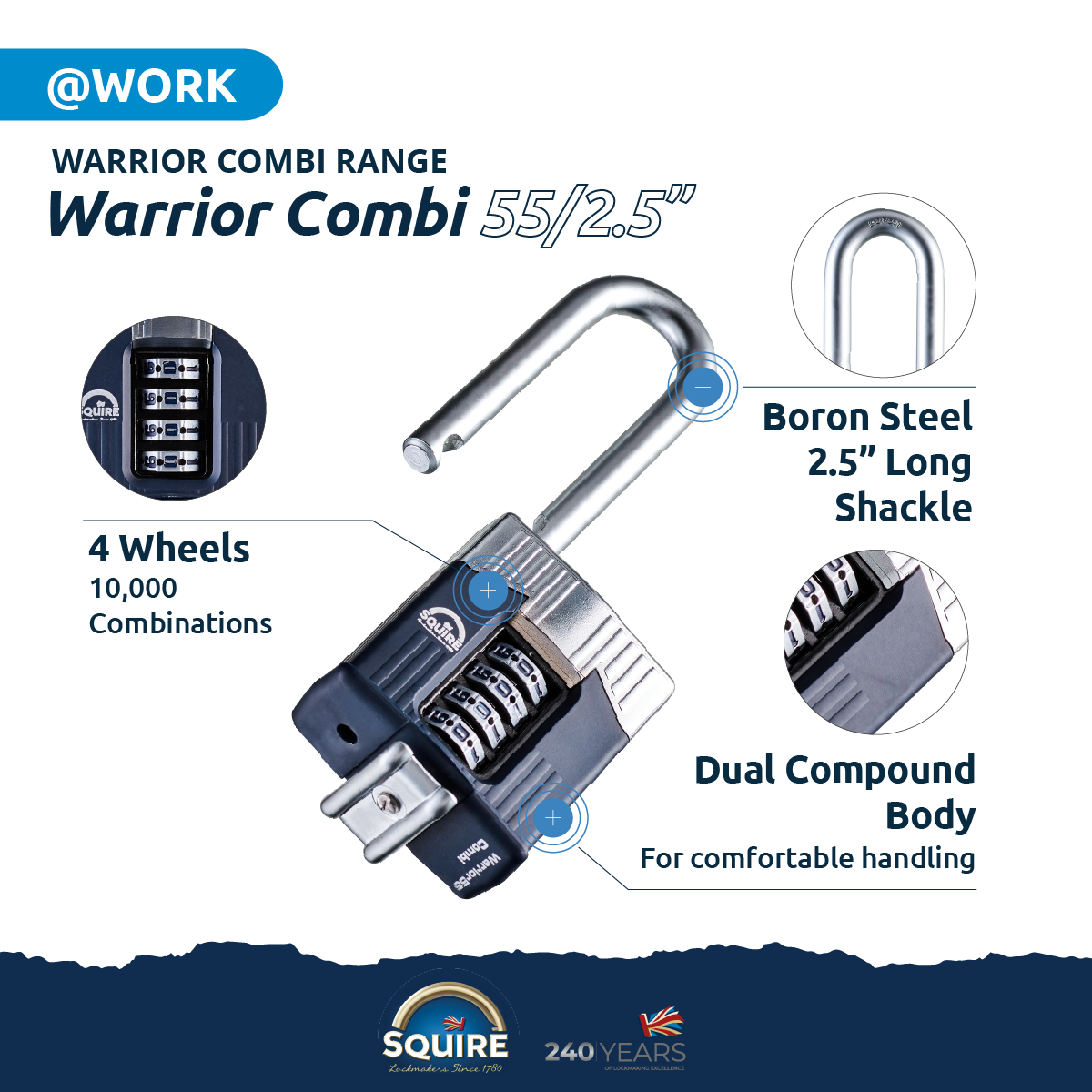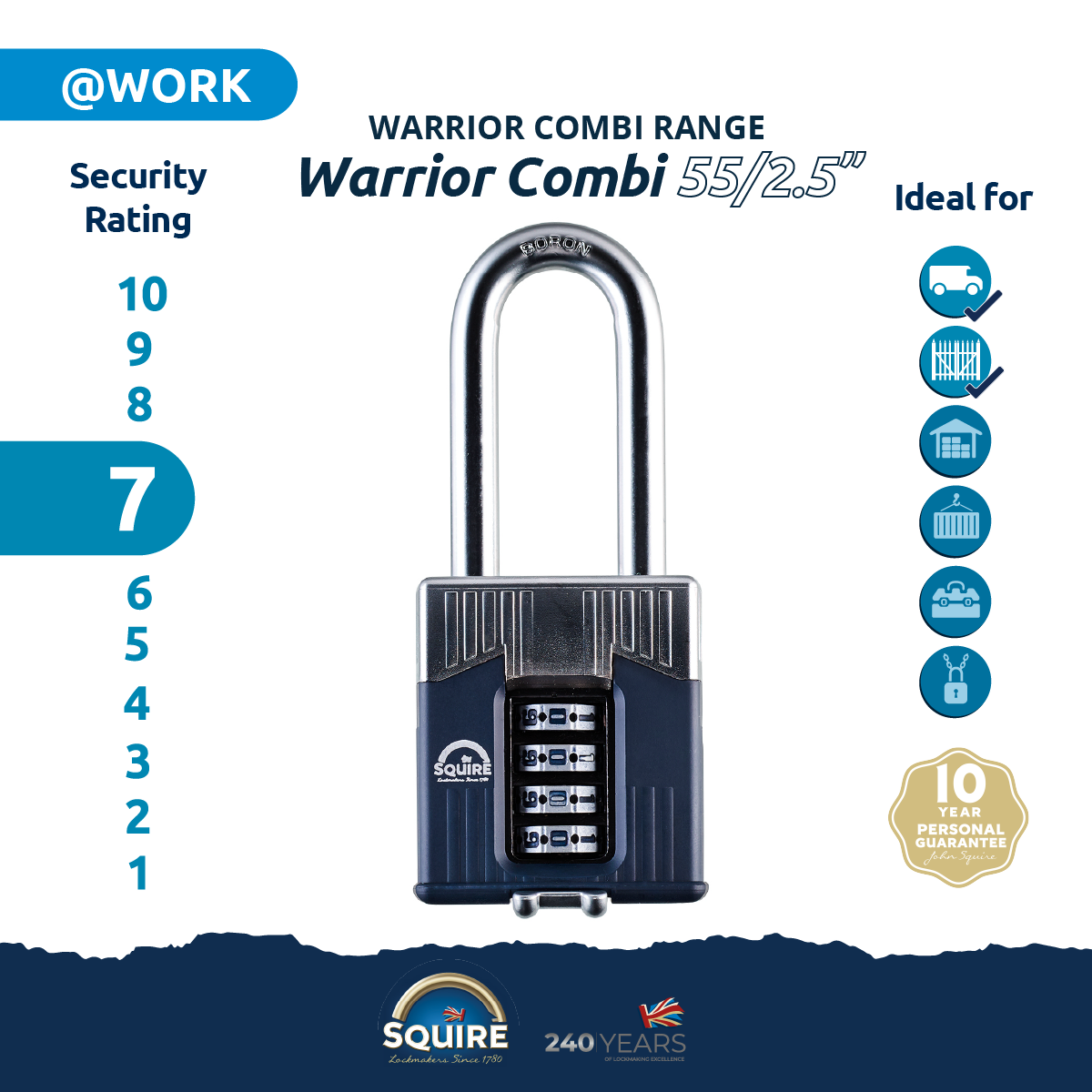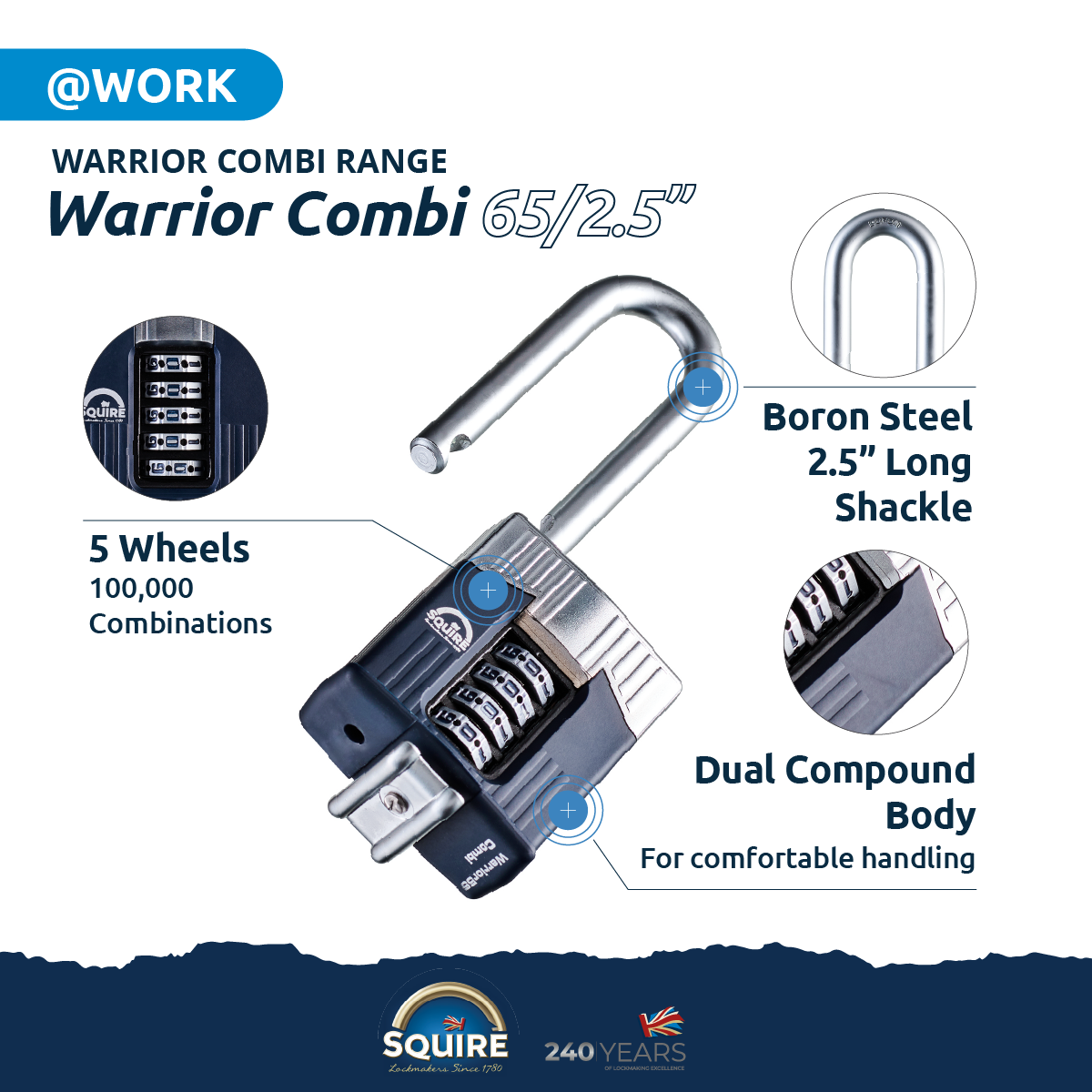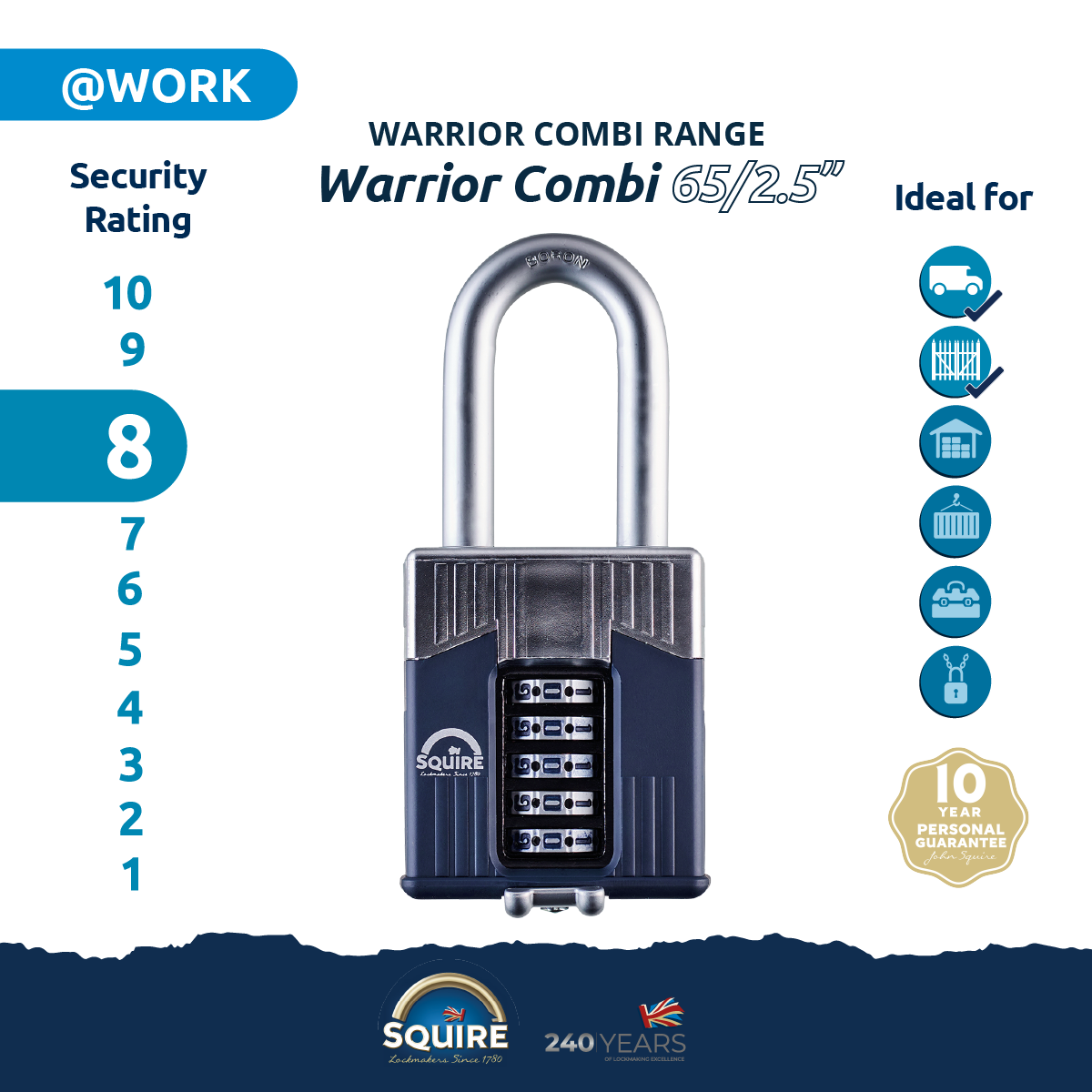 Warrior® Combi 55/2.5 Long Shackle
Product description
ROBUST HIGH SECURITY COMBINATION LOCKS: They don't get much tougher than our new range of heavy duty, high performance Warrior padlocks. These tough combination locks have armored steel bodies, Boron steel shackles and protective covers making them hard to beat. Easy to use in 4 and 5-wheel versions, these Warriors are fully recodable and offer up to 100,000 combinations.


NEW IMPROVED BORON STEEL SHACKLES: The SQUIRE Warrior Range has a new hardened boron steel shackles that provide 80% more attack resistance compared to other hardened steel shackles. The Warrior Combi Locks are highly corrosion resistant, ideal for securing sheds, tool boxes, lockups and storage areas. That's why they're supported by the independent crime-fighting charity Crimestoppers.


FULLY RECODABLE, NO KEYS TO LOSE: The Squire Locks recodeable combination padlocks offer unrivalled product performance and choice. These combination padlocks come with easy to follow recoding instructions. The 4 wheel configuration allows for up to 10,000 different combinations, whereas the 5 wheel configuration allows for up to 100,000 possible combinations.


EASY TO HANDLE, HARD TO BEAT: The Warrior Heavy Duty Combination Locks are made of the highest quality materials, satin chrome die cast alloy body and a soft touch cover for comfortable use. The double clocking mechanism and Boron steel shackles make them great for high security use. The patented design allows the wheels move effortlessly. The Squire Combination Padlocks comply with high security standards are great for securing garages, security gates, warehouses & commercial vehicles.



SQUIRE10 YEAR WARRANTY: We at SQUIRE have over 235 years of lock making history; we are uncompromising in our commitment to innovation, service and performance. We're proud of our craft and stand firmly behind our reputation for long-lasting toughness. That's why every one of our locks comes with a 10 year personal guarantee. If you have any problems with your lock, we will give you a new one, no questions asked.
Trusted Brand
Squire's 240 years of manufacturing excellence
Quick Delivery
95% of orders ship same day
10 Year Warranty
Industry leading product guarantee
15 Day Returns
Return Unused for Product Refund