Stronghold SS50S Open Shackle | Boron Hardened Steel Padlock
Title
SS50S
SS50S Keyed Alike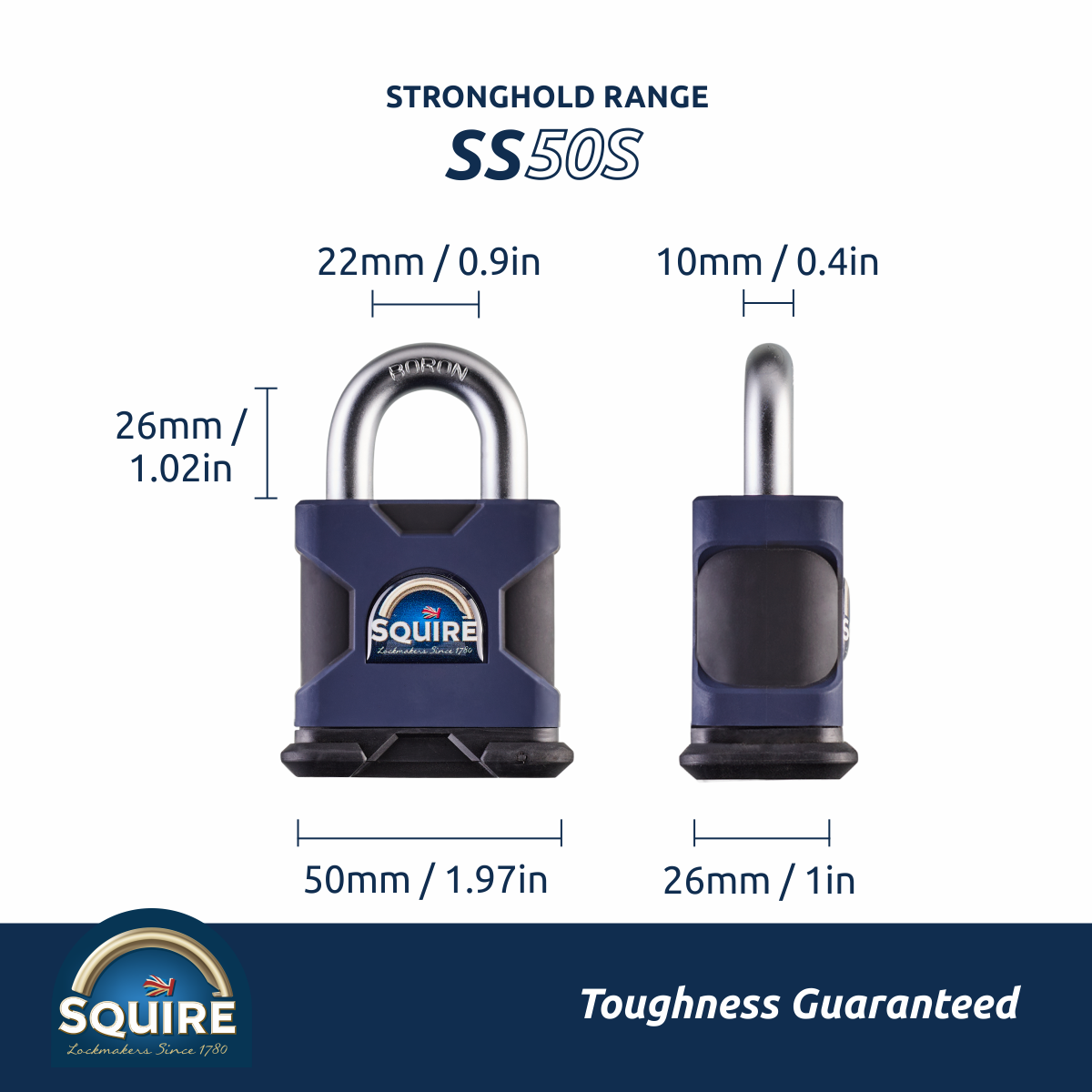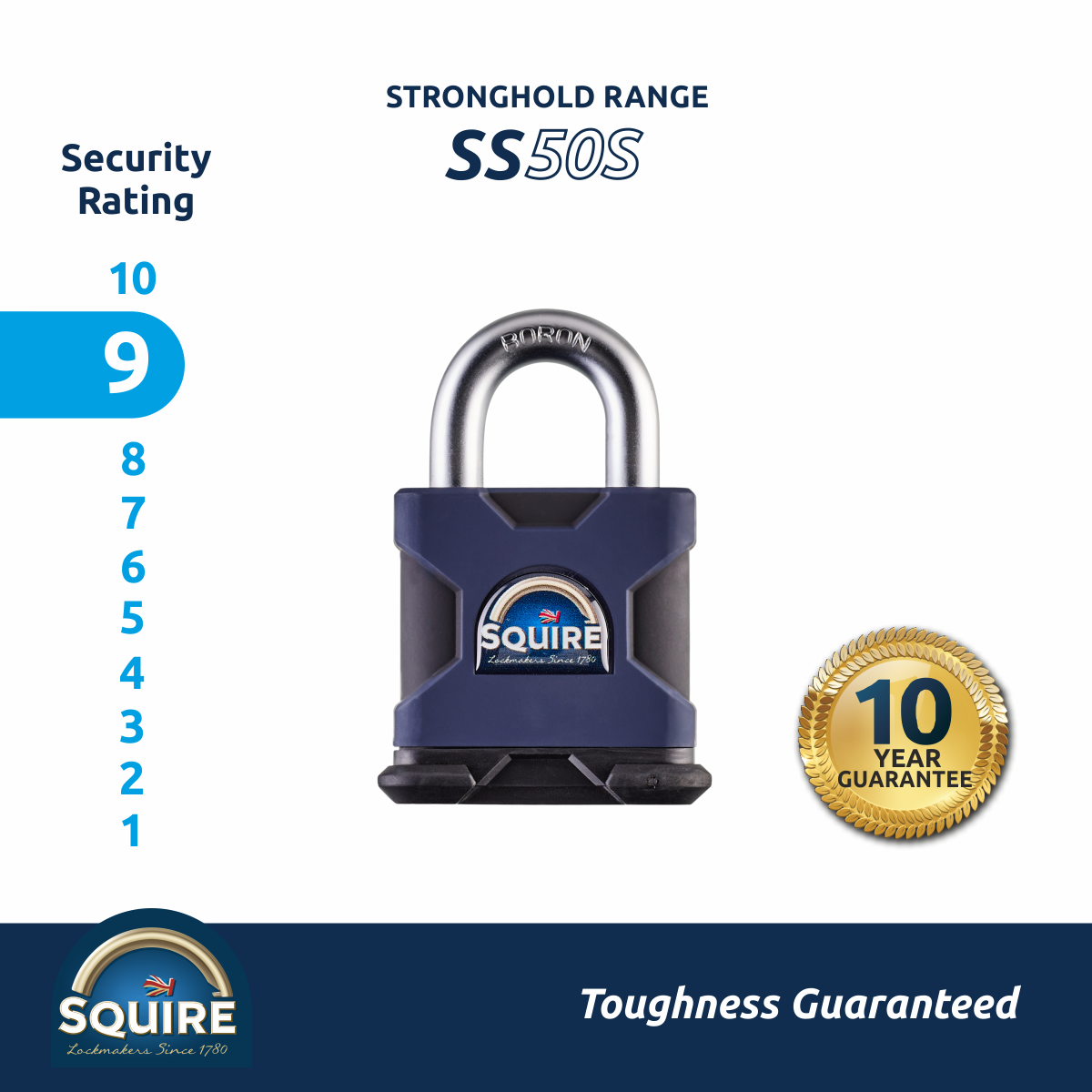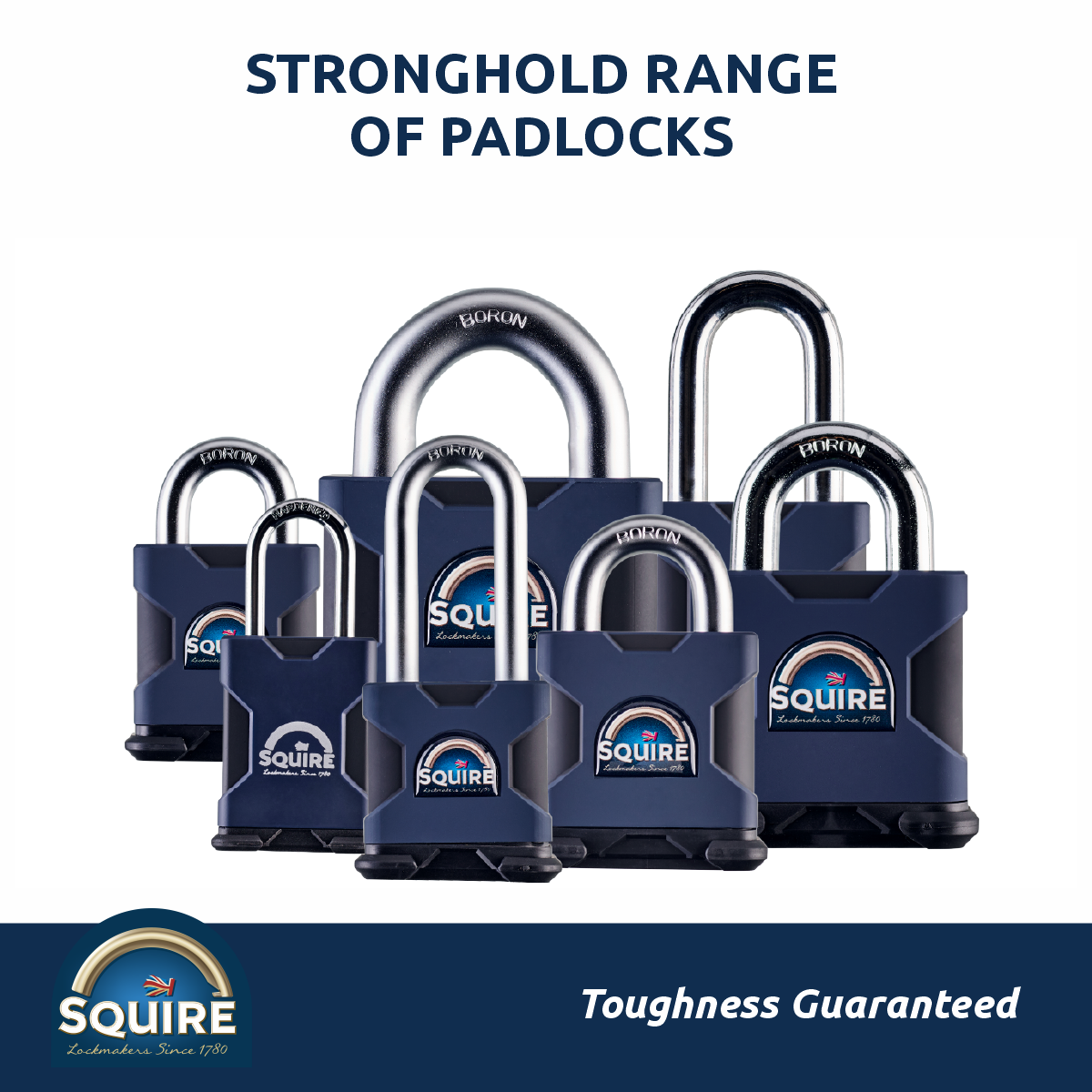 Stronghold SS50S Open Shackle | Boron Hardened Steel Padlock
Product description
Stronghold SS50S: From The World's Toughest Production Padlock Range
The Stronghold SS50S is a robust, high-security open shackle hardened steel padlock, which is part of the Squire Stronghold range, widely regarded as the world's strongest production padlocks.
The SS50S padlock is fitted with the new Squire 6 pin locking mechanism and is re-keyable, it can be keyed alike or master keyed. All Squire Stronghold padlocks are tested to the CEN security standards to ensure the highest levels of protection, reliability, and performance.
Are you looking for a reliable and secure way to protect your assets? Look no further than the Stronghold SS50S - this padlock is virtually unbreakable and provides unparalleled protection for your property.
Main Benefits:
Unbreakable Security: 10mm hardened boron steel shackle and a 50mm solid hardened steel lock body, the SS50S is strong enough to withstand even the most determined attack.
Versatile Customization: Choose from over 250,000 key differs and opt for keyed alike or master keyed options to simplify access and security management.
Certified Protection: Tested to meet CEN security standards, this padlock provides the highest levels of protection for perimeter gates, storage units, truck tool boxes, secure facilities, commercial equipment, and more.
Built to Last: Featuring a corrosion-resistant 2-layer coating with zinc and black electrophoretic finish, the SS50S remains resilient against harsh elements and ensures long-lasting durability. 
More Information:
The Stronghold SS50S is perfect for securing a wide range of assets, including trucks, trailers, RVs, motorcycles, as well as industrial and utility outdoor assets. 
Invest in one of the world's strongest production padlocks and enjoy the peace of mind that comes with knowing your assets are protected and come with Squire's industry leading 10-year warranty. Don't compromise when it comes to security - order your Stronghold SS50S today and protect your assets long into the future.
See also: SS50S Long Shackle Version
Trusted Brand
Squire's 240 years of manufacturing excellence
Quick Delivery
95% of orders ship same day
10 Year Warranty
Industry leading product guarantee
15 Day Returns
Return Unused for Product Refund